All this talk about DRUG USE...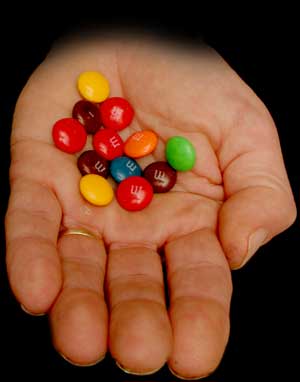 We all know that there are lots of different pills available to the athelete with various "performance enhancers." Some of them work, but are illegal. Others are legal, but don't work very well.
"Product W" a highly effective performance enhancment pill that is completely legal! (At least for the moment...)
The primary active ingredient in Product W is the miracle drug
3,7-Dihydro-3,7-dimethyle-1H-prine-2,6-dione
More popularly known as: Theobromine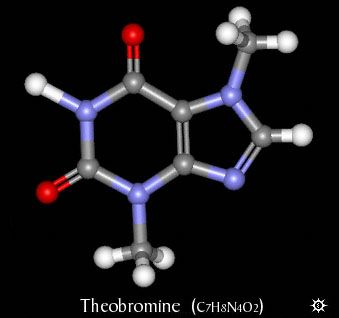 Theobromine is an all natural substance obtained at great expense from certain tropical plants.
Here's the dope on theobromine chemistry:
NAME : Theobromine
CHEMICAL NAME : 3,7-Dihydro-3,7-dimethyle-1H-prine-2,6-dione
ALTERNATE CHEMICAL NAMES : 3,7-dimethylxanthine
CHEMICAL FORMULA: C7H8N4O2
MOLECULAR WEIGHT: 180.17
Product W contains a variety of chemicals, with the primary psychoactive components being theobromine (about 1% of total weight) and caffeine (<.1%). Other chemicals include serotonin, histamine, salsolinol, methyltetrahydroisoquinoline, phenethylamine, telemethylhistamine, spermidine, p-tyramine,3-methyloxytyramine, tryptamine, and spermine.
Now, unless you're a highly trained chemist, the above material may seem like meaningless gobbledygook. What, you ask are the practical effects of using Product W?
That's an easy question to ask, but not so easy to answer. Product W is primarily intended as a legal stimulant, providing the athlete with energy and promoting alertness.
Reports of Product W having beneficial effects on sexual responsiveness in both males and females are widespread, but must be considered anecdotal in the absence of a rigorous research study.
Dosage:

Due to the low melting point of the active ingredient, theobromine, we encase each dosage unit in a hard but thin candy-like shell. As a result, it won't melt in your hand.
While Product W may be swallowed as with other pills, many athletes prefer to chew the pills for more rapid theobromine release. Many people actually find the flavor quite pleasant.
Due to the low concentration of theobromine, usual dosage is anywhere from 10 to 30 Product W tablets at a time, repeated as desired.
Cautions:
Product W users should avoid operating heavy machinery while under its influence, but no problem with light machinery. In the case of bicycles, it is only recommended for use with bicycles weighing 22 pounds (10 kg) or less, for this reason.
Keep this product out of reach of children at all times.
***Product W is for human use only, and may be harmful to dogs.***
Possible Side Effects:

Excessive consumption of Product W may lead to weight gain, insomnia, skin eruptions or dental caries.
Format :
Product W tablets come in a variety of cheerful colors, each with a "W" stamped on it.