Source:
Jill Hamilton
a.k.a. My Boss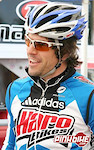 With the recent allegations of testing positive for a banned performance enhancing drug, Haro Bikes has released Chris Sheppard from his professional racing contract. Sheppard tested positive for EPO in an out-of-competition urine test performed at his home in Kamloops, BC on May 29, 2005.
Sheppard, a Canadian native, has raced for Haro Bikes for a total of 7 years. During this time, he has proven to be a top contender at both NORBA and World Cup race events, most recently finishing 7th in Short Track and 8th in Cross Country overall NORBA series standings. Sheppard has also played an integral role in the research and development of Haro's mountain bike line.
"We're obviously disappointed with this news," said Jim Ford, Haro's President/CEO. "Chris has been a great ambassador for Haro and the sport of mountain biking for many years. Despite the serious nature of this situation, we still see view Chris as a good person who made a bad mistake."
Keeping with Haro's zero tolerance policy when it comes to its athlete's use of banned performance enhancing drugs, Sheppard has been immediately released from his racing contract.
Haro is a recognized leader in providing innovative performance bikes, parts and accessories to the BMX, dirt, freestyle/street, and mountain bike markets. The company currently has over 1800 dealers throughout the United States and distributors in 48 countries worldwide. Bob Haro, who is known in the BMX industry as the "Father of Freestyle," founded Haro Bikes in 1978.